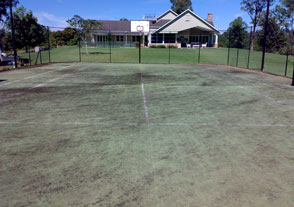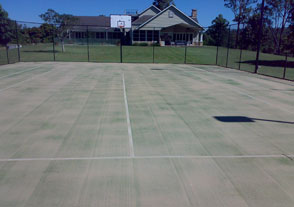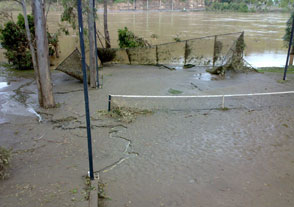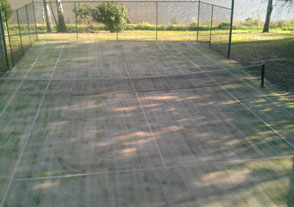 Synthetic Grass Courts
Australian owned and owner operated, Tennis Court Management Services has operated for over ten years rejuvenating and maintaining tennis courts in Brisbane and Sydney whether it be synthetic grass or acrylic hard courts, we maintain all types of surfaces
Synthetic Grass Surfaces
Our tried & true machines were researched and developed over several years to offer you a completely dry cleaning process with no harmful chemicals. Our specially designed nylon brushes help to dislodge the contaminates without damaging the synthetic grass fibres of the pile, for a safer and more appealing surface to play on.

If you would like to stand out amongst your friends we can even remove your old dirty sand and replace it with coloured sand to individually match your tennis court and surroundings.
Over a period of time, a number of factors can seriously affect the playing surface of you tennis court. It is subject to many environmental and usage conditions that can result in significant damage to the grass matting material, the sand filler and the overall condition of the surface.
Algae and Moss

Moss and algae often develop on fibers, the spores of which lie dormant until activated by water (rainfall etc).
Surfaces are affected by other contaminants such as airborne pollutants, vegetation, animal waste, vermin etc.

Continued use without servicing causes compaction which results in an uneven, slippery surface and poor ball response.
The result is a generally tired and worn appearance.

Our equipment breaks up the crusted surface, segregates the silica sand and removes algae, dust and other contaminants. The sand is then replaced evenly between the fibers, restoring the surface to optimum condition.
Our fully trained service professionals can also maintain the court surrounds with each service.
Compaction of the Main Traffic Areas
Compaction of the main traffic areas, particularly around the base lines. Ridges, uneven playing surfaces, hard glazed areas and scuffing from players shoes and equipment result in a slippery surface that is not in optimum condition for the users of the facility.
Inadequate Drainage
Inadequate drainage is a major problem. Either from the court or areas outside the court itself. The blocking of the natural drainage mechanism can result in large areas of mud or dirt where water collects. This will result in the growth of weeds, moss or other vegetation and substantial damage to the matting and sand filler.
Air Pollution
Air pollution is an ever-increasing problem. The airborne hydrocarbon pollutants effectively stick the fibres to the sand, again leaving the surface slippery and dangerous. The salt deposited from the air in the coastal regions leaves a crust which packs into the grass pile and becomes extremely difficult to break up if left too long.