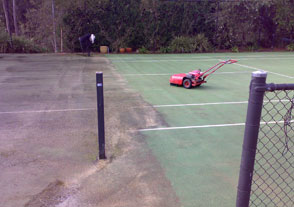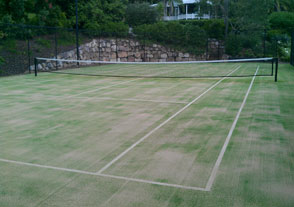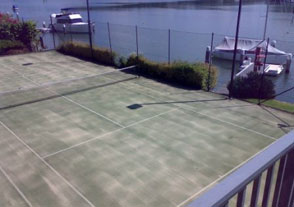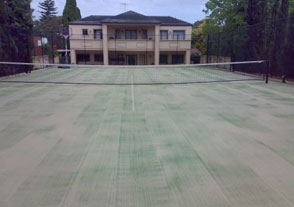 Frequently Asked Questions
I thought synthetic grass was maintenance free!
This is a common misconception. It wasn't until some 5-10 years after the first synthetic grass courts were laid, that it became apparent that a number of factors can seriously affect the performance and appearance of a court. Algae and moss are the most common problems where water collects or the surface is subject to shade. These black stains leave dangerous, slippery areas and can cause serious deterioration of the surface material. Compaction, uneven sand levels and inadequate drainage are also common problems for court owners.
How does the Court Pro equipment work?
Our equipment has evolved as a result of over 7 years research and development. The CP500 rejuvenator uses a completely dry process to effectively rejuvenate courts without the use of damaging chemicals. It features a rotating brush mechanism designed to gently impact on the surface to break up any crust that has formed. A vacuum lifts out the sand to dislodge and filter out the contaminants and prevents most of the dust and other rubbish from dropping back onto the surface. A second set of brushes gently lifts and polishes the fibres and clean, filtered sand is then replaced into the carpet. A brooming device ensures even distribution of the filtered sand back into the surface completes the professional finish of the court.
What results can I expect?
Increase the life expectancy of your investment
Restore an even surface to the court
Improve the consistency of ball bounces
Provide player comfort
Enhance the overall appearance of your court and recreational surrounds
Reduce slippery surfaces and so improve player safety
When will I be able to start playing again?
Immediately! The Tennis Court Management equipment is completely dry process and play can commence as soon as we walk off the court!
How often do synthetic grass courts need maintenance?
Many factors determine the frequency of maintenance required:
The type of synthetic grass
Shade and debris from surrounding trees
Drainage from surrounding gardens, retainer walls and sloping lawns.
The amount of court usage.
House hold budgets.
Domestic tennis courts require maintenance once to three times a year. We recommend an individual maintenance program be designed to protect your investment and keep your court at its peak, both in performance and aesthetic appearance.
Will the process damage the court surface?
No. Tennis Court Management equipment uses nylon brushes to break up crusted and compacted areas which does not damage the synthetic grass pile.
How long does a service take?
Courts in fair condition requiring regular maintenances can take from 4-8 hours. This depends greatly on the condition of the court. Our highly experienced operators will inspect your court and provide a complete quotation highlighting any recommendations. My court has problems with moss and algae due to drainage issues, shaded areas etc. What can I do about this? This is a common situation for court owners.Our operators will carefully inspect your court and surrounds and recommend solutions to overcome these problems. Referrals can be made to drainage and retaining wall specialists, tree loppers etc. Our rejuvenation process can remove moss and algae and we are also able to apply an algaecide solution which can greatly inhibit the regrowth of these contaminants. This environmentally-friendly formula will not adversely affect other plants, shrubs or wildlife.
How can I reduce the cost of court maintenance?
Regular maintenance programs will allow you to utilize your tennis court week in week out before It is subject to many environmental and usage conditions that can result in significant damage to the grass pile. Our operators can recommend specific tasks that can be carried out by the owners to help reduce maintenance issues.